Surplus People
a weird swedish/finnish trio with dignity invites to a colourful electronic Music-Circus ::: ein schräges schwedisch/finnisches Trio mit Würde läd zum farbenfrohen elektronischen Musik-Zirkus.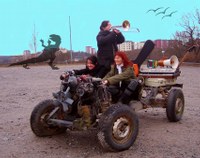 Organic and metallic, the bearded lady is on a date in high-heeled shoes and diamonded out. Glamour meets an oil slick on a car mechanics floor and city meets countryside.
Hypnotic rhythms of bass, organs and samplings are forcing the music forward, turning it up side down.
Voice, trombone and organs build simple melodies, sometimes on top of each other, rounded off by a strangled trumpet.
Everything is held together by the primitive drum machine; a swinging, boiling, rhythm box that might be the only human component.
Surplus People are very much appreciated as a live band. Visually they might look like a circus, with small movements, as they seduce and demolish, inviting you to a walk in the electronic forest, scaring and cradling you to feel safe. They encourage a riot.
Magdalena Ågren is singing, screaming and making sounds, sometimes in a megaphone, trumpet or trombone.
Petra Kiiskinen makes noise and melodies on one or another old organ.
Helena Engarås is playing with the bass, sometimes a madly distorted bass.
++++++++++++++
Organisch und metallisch, die bärtige Dame geht in hochhackigen Schuhen und Diamanten aus. Glamour trifft ölverschmierte KFZ-Werkstatt und Stadt trifft Land. Hypnotische, monotone Rhythmen aus Bass, Orgeln und Sampels treiben die Musik voran und stellen sie auf den Kopf. Aus Gesang, Posaune und Orgel werden einfache Melodien gebaut, manchmal übereinandergeschichtet, abgerundet von einer erwürgten Trompete. All das wird zusammengehalten von der primitiven Drum-Machine; einer schwingenden, knatternden/brodelnden Rhythmbox die vielleicht die einzig menschliche Komponente in dem Trio ausmacht.

Surplus People sind eine gern gesehener Live Act. Rein optisch könnten sie als Zirkus durchgehen, als einer mit minimalistischen Bewegungen. Sie verführen und zerstören, laden dich zu einem Spaziergang durch den elektronischen Märchenwald, erschrecken und wiegen in Sicherheit. Sie rufen zum Aufstand auf.

Magdalena Ågren singt, schreit und klingt mit Megaphon, Trompete oder Posaune.
Petra Kiiskinen macht Lärm auf der einen oder anderen alten Orgel.
Helena Engarås spielt Bass, gern auch verrückt verzerrt.