-----> invitation
-----> this year again...
-----> next meetings
-----> help wanted/i have room for ladizz!

-----> fight the power
-----> call for films
-----> open stage

-----> photos
from iris of Ladyspace-solidarity party with scream club


programm
-----> workshops
-----> open mega
-----> bands/performances
(german and english)

-----> timetable




AN INVITATION!
LADYFEST 2005 IS IN THE MAKING! AND WE WANT TO INVITE YOU TO JOIN US IN ORGANIZING, DEVELOPING IDEAS AND PUTTING THEM INTO PRACTICE...
LADYFEST IS A PLATFORM FOR FEMINIST, QUEER AND TRANSGENDER CULTURE. IT HAS ITS ORIGIN IN THE "DO IT YOURSELF" CULTURE OF THE RIOTGRRRL MOVEMENT. WHEN THE DENOMINATOR "GRRRL", ORIGINALLY INTENDED TO EXPRESS A REBELLIOUS ATTITUDE, WAS TRANSFORMED BY THE MUSIC BUSINESS INTO ITS COMERCIALIZED FORM "GIRLIE", FORMER RIOTGRRRLS APPROPRIATED THE TERM "LADY" FOR THEMSELVES, AS A TERM BETTER SUITED TO TRANSPORT FEMINIST POLITICAL IDEAS.
THE FIRST LADYFEST TOOK PLACE IN 2000 IN OLYMPIA/USA. SEVERAL LADYFESTS HAVE SINCE BEEN ORGANIZED IN DIFFERENT PARTS OF THE WORLD –- ONE OF THEM IN VIENNA IN 2004.
RECENTLY, A GROUP OF WOMEN HAS GOT TOGETHER TO BRING INTO BEING LADYFEST 2005. WE WANT TO USE AND PROFIT FROM THE LADYFEST IDEAS ALREADY IN EXISTENCE, BUT AT THE SAME TIME, WE WANT TO BRING OUR IDEAS AND MEANINGS INTO LADYFEST 2005 AND DISKUSS THEM, THINK ABOUT THEM,... FINALLY REALIZE THEM IN THE COURSE OF A PROCESS OF DEFINITION WHICH IS ONLY JUST BEGINNING.
WE WOULD LIKE TO CREATE A PLATFORM FOR ORGANIZING LADYFEST 2005 WHICH IS A MIXTURE OF HETEROGENEOUS STANDPOINTS, APPROACHES AND CONTEXTS.

SO WE ADDRESS OURSELVES WITH THIS INVITATION TO WOMEN, LESBIANS, TRANSGENDERS, UNEMPLOYED PEOPLE, MIGRANTS, WORKERS, STUDENTS, MUSICIANS, SERVICE PROVIDERS, TECHNICIANS, ARTISTS...
SO THAT TOGETHER WE CAN RAISE OUR KNEE OR OUR FIST AGAINST SEXISM, RACISM AND THE CAPITALIST LOGIC OF EXPLOITATION!!!



Workshops

::::: Intervention :::::
right at the start of Ladyfest05 a workshop will take place that deals with our wishes and goals for people to act or not act during the festival. we will discuss/learn strategies for taking the spaces we want and prevent sexist, racist, homophobic etc. behaviour from any side.


::::: genderfuck :::::
held by the sissy boyz, 10-15 participants (language: german/english)
drag is when your in disguise?
drag is more than putting a beard for lady or lipstick on a lad. there could be more to it... double drag is the challenge. <be your own boydyke vs. femme as you can> discover the senior citizen in yourself or even your mother!
we bring make-up and beard and a few clothes... lets discuss the topics and have fun


::::: politicial positioning of descendants of nazi-perpetrators, supporters and profiteurs :::::
starting from my own history as a granddaughter of nazi perpetrators I want to deal with questions such as: family´s history, sources of inheritance and the history of accomodation we live in.
the workshop will focus on:
how to question (uncooperative) family members?
what exactly is it we want to know?
what does responsibility mean in such contexts?
are we responsible?
what kind of political strategies follow from these kinds of questions?


::::: Sexualität und Masturbation:::::
The workshop focuses on the importance of sexuality in anarchist perspective of struggle against all forms of domination, and on exploring the ways in which our sexuality is constructed in patriarchal capitalist society, and the ways of creating and developing sexuality that is not rooted in practices of forced domination, inhibition and determination.


::::: The context is the content, let's meet there! :::::
Workshop with Emma Hedditch, 4th – 9th Oct.

Desiring connection to Ladyfest Vienna and further autonomous activities in the city. How can we show support for and open up more exchanges?

Emma Hedditch is an artist living in London. Emma's work activates a commitment to feminist politics, democratic media and a genuinely collaborative and collective practice. www.andiwilldo.net

Emma will be in Vienna during one week from 4th to 10th October, and would like to meet, work and build a project with persons in Vienna. Questioning some of the existing institutional frameworks, systems and methods that are active now, whether imposed or self-imposed and trying to avoid making new ones, moving around, outside and inside, and between outside and inside, but with self-reflection.

October 4th - Beginning at a self-organised space, Artmosphere (www.artmosphere-vienna.net/) exploring production physically outside large institutions, is it a radical system? Organised with friends and little money, self-production, and an engaged participation as absolutely political. We will begin in the evening, with food, a video screening and discussion, and continue on the 5th with extended discussion and information exchange, what can we do?

October 6th - At the Academy, if we are inside, what can we do here? how did we get in there? what can we exchange across this system? What is our position in it, for what can we use it?

Continued on the 7th and 8th of October, how and who should represent these refusals and resistances, how can we write about this position, and record what is happening?

October 9th - An imagined critical exchange, amongst an imaginary fragmentary swarm of persons, who produce a representation of themselves enacting production. Desiring connection to Ladyfest Vienna and further autonomous activities in the city. How can we show support for and open up more exchanges?

Dates: 4th – 9th October 2005
Places: Galerie aRtmosphere, Holochergasse 32/ Top 1,
Entrance Plunkergasse,
A- 1150 Wien
Atelierhaus der Akademie der bildenden Künste, Lehargasse 8, 1060 Wien, 1. Stock,
M1 Department for postconceptual practices.

::::: other workshops and descriptions up to now only in german here


there will be space for spontanous workshops or actions - be part of LadyfestVienna 05



"open mega"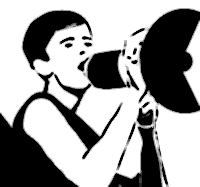 during Ladyfest05 we provide a megaphon to use as intervention-tool.
Ladyfest05 interactive: this way to our Bulletin Board
http://bb.mur.at/viewforum.php?f=4
See News for the programm and messages you want to write to us and everybody in the net :)


Want to help @ Ladyfest05 ?
Organize solidarity events (bar, entrance, whatever)?
CONTACT US
lf05_at_liab.at (mailing list)
or Ladyfest05_at_gmx.at



I have Room for Ladizz!
if that's true for you - you can offer sleeping places for the bands, performing artists or workshop leaders -
contact us at:
pennen_ladiez_at_yahoo.de

and send us the filled out form:
i have room.rtf

*Attention: The "@" figure in the email addresses was substituted by "_at_" to make the email adresses human readable only!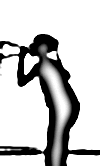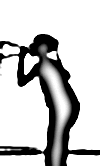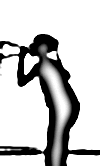 Open Stage
Friday, Oct 7th 2005

Let's play! Perform at Ladyfest in Vienna!
***
The Open Stage is a Plattform for Women of all Identities to present your music. At Ladyfest in Vienna 2005 there will be an Open Stage where you have the opportunity to present your own music. no matter if playing solo or in an band, singing, screaming or jaming - any way - if you are in the mood to perform contact us!

If possible we pay travelling costs.


This year again! There will be another ladyfest in vienna - taking place from 7th to 9th of october 2005!
Ladyfest is a feminist platform with the aim to break and undermine a dual gendersystem, following the principle of selfempowerment and explicitly including queer, unconventional and transgender ladyz.
Ladyfest wants to destabilize the heterosexual norm and step over (gender-) borders.
We criticise predominant norms and categories, thought of as irrefutable (race, class, gender) that structure not only one's 'own' desire, but society (law, economy, science, ..) and life as a whole.

A strong transforming opposition should be held against this system that is based on categories of 'difference'. We want to attack this system by making the functions and mechanisms of creating borders visible.

This is a call to participate in the making of ladyfest05 in vienna!
Any kind of support is appreciated, in organising solidarity events or other 'helping' activities such as preparing food, helping out on concert evenings or film screenings, bar, entrance... - and of course: bring your ideas of any kind!
So that together we can raise the knee or the fist against sexism, racism and the capitalist logic of exploitation!!!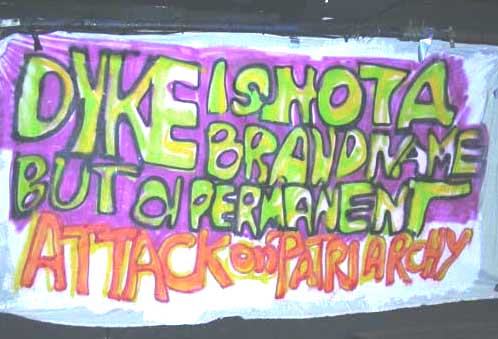 fight the power, fight sexism, fight for your rights...

BUT! Fighting is not only a word; fierce parols also need practical
strategies for fighting; tricks and all kinds of martial arts.
Quick wittedness in word and deed is the device of this call.

Do you want to teach interested people in Wen-do, Capoeira, Kickboxing, Escrima, Rhetorical Fighting, Sumo etc. And do you want to get new knowledge of other forms of fighting and martial arts?
Get in touch with us and tell us what you would like to place in a martial arts workshop!

fighting women of all identities we're calling you!
fight and have fun @ LadyfestVienna05!

contact: poeira and penjak from LadyfestWien05
ladyfest05_at_gmx.at




**
CALL FOR FILMS
- Ladyfest Wien, October 7 - 9, 2005
Ladyfest Wien is currently seeking cutting edge videos and films dealing with politics of identity in an increasing diversified field of media representation. This includes experimental approaches dealing with body politics and gender as well as documentaries or fiction films about shifting identities within a broader political context. Cross-genre experiments are not only welcome but a strong focus of our interest! So please send us your feminist/queer/lady-made experimental films, music-videos, agit-prop documentaries and gendernaut-science-fictions so we can put together an exciting film programme!
Please submit on vhs, dvd, svcd or vcd!
Along with your submission please include the following details:
- Your name, address and email address
- Title of film and year of completion
- Format (original and format of the screening copy, e.g. 16mm on dvd)
- Runtime of film
- Credits, if any (camera, montage, cast, etc...)
- Statement about the film
- If the language is neither English nor German, please include a transcript of the
dialogues in one of those languages
application form: [formular.pdf]
<http://q-film.org/formular.pdf>
*PREVIEW -
q-film.org
online Database for short films*
Furthermore you have the possibility to present your work at *q-film.org* (launching spring 2006). Videos and films on feminist, queer, transgender and antiracist topics as well as their makers are promoted through archivation and access. The intent of the film database is to promote non-established film-makers in giving them the opportunity to present their work to a wider audience. In addition to the promotion, online archiving keeps short films in the public eye and enables continued access. It defines itself as an open space for discussion, exchange and networking between filmmakers, researchers and the interested public.
*Send films and videos to:
q-film.org
*c/o Katharina Meißnitzer
Vereinsgasse 35/7
1020 Wien

*Deadline for submission is September 10, 2005!*
*Questions via email:*
film (at) qfilm (dot) org